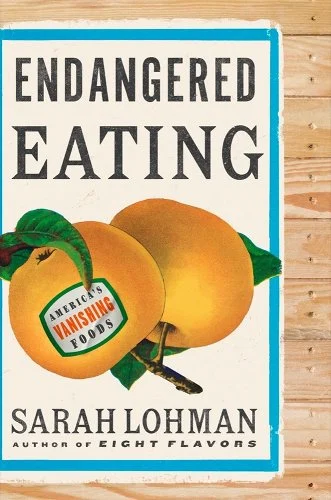 Endangered Eating: America's Vanishing Foods
ISBN 9781324004660
USA $28.95
CAN $38.95
Pre-Order: WW Norton, Amazon, or Bookshop.org
Press: Will Scarlet, wscarlett@wwnorton.com

American food traditions are in danger of being lost. How do we save them?

Apples, a common New England crop, have been called the United States' "most endangered food." The iconic Texas Longhorn Cattle is categorized at "critical" risk for extinction. Unique date palms, found nowhere else on the planet, grow in California's Coachella Valley —but the family farms that caretake them are shutting down.
Apples, cattle, dates—these are foods that carry significant cultural weight. But they're
disappearing.

In Endangered Eating, culinary historian Sarah Lohman draws inspiration from the Ark of Taste, a list compiled by Slow Food International that catalogues important regional foods. Lohman travels the country learning about the distinct ingredients at risk of being lost. Readers travel with Lohman to Hawaii, as she walks alongside farmers to learn the stories behind heirloom sugar cane. In the Navajo Nation, she assists in the traditional butchering of a Navajo Churro ram. Lohman heads to the Upper Midwest to harvest wild rice; to the Pacific Northwest, to spend a day fishing on a traditional reefnet gear; to the Gulf Coast, to devour gumbo made thick and green with file powder; and to the Lowcountry of South Carolina, to taste America's oldest peanut—long thought to be extinct. Lohman learns from those who love these rare ingredients: shepherds, fishers, and farmers; scientists, historians and activists. And she tries her own hand at raising these crops and preparing these dishes. Each chapter includes two recipes, so readers can be a part of saving these ingredients by purchasing and preparing them.

Animated by stories yet grounded in historical research, Endangered Eating gives readers
the tools to support community food organizations and producers that work to preserve local culinary traditions and rare, cherished foods—before it's too late.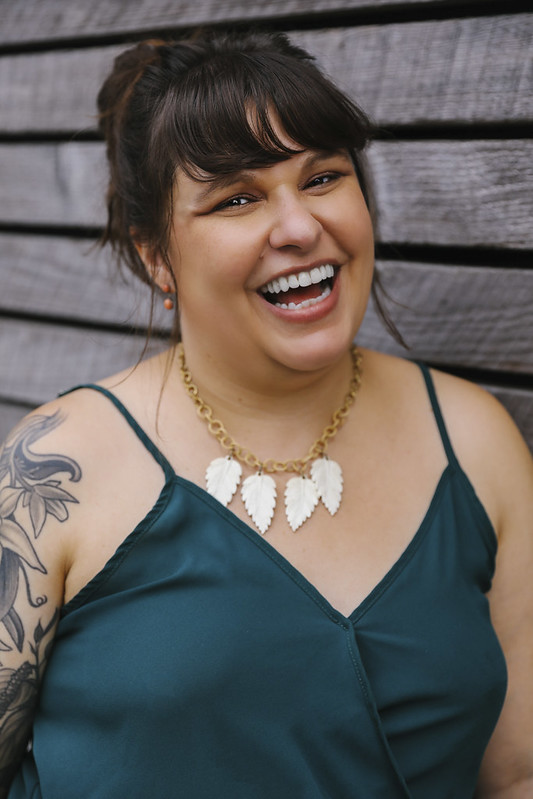 Sarah Lohman is the author of Eight Flavors: The Untold Story of American Cuisine. Her work has been featured in the New York Times, the Wall Street Journal, and the Washington Post. Formerly the Curator of Food Programming at the Lower East Side Tenement Museum, she currently works with institutions around the country to create public programs focused on food. She lives in Las Vegas.
Praise for Sarah Lohman and Endangered Eating
"In Endangered Eating Sarah Lohman gives readers a new and powerful lens through which to view the past, present, and future of food in America."
-Dan Saladino, author of Eating to Extinction
"From sheep to wild rice, the foods we eat for both hedonistic exploits and sustenance have been going extinct; every time we breed a food to survive the rigors or worldwide transport we lose all its delicious attributes. Sarah Lohman shares compassionate stories about the importance of these foods and outlines what you can do personally to ensure their continued and delicious survival. Lohman carries Twain's torch with her passion, love, and want to preserve these amazing foods for future generations."
-Jeremy Umansky, chef and co-owner of Larder Delicatessen and Bakery
"Enjoyable, entertaining, and meaningful. … A tasty sojourn through the landscape of America's endangered foods, served with a scoop of energy and a dash of hope."
– Kirkus
"She impressively plucky … and is assiduous in tracking down early recipes and describing cooking techniques. She also gets to show off her scientific fluency (she comes from a family of scientists)."
-Corby Kummer, New York Times
"When Sarah Lohman describes herself as a historic gastronomist, she is being too modest. She is, in addition, an accomplished writer, an intrepid traveler, dogged researcher and pundit. She knows what Americans eat, what our ancestors ate, and why."
-David Hoshan, USA Today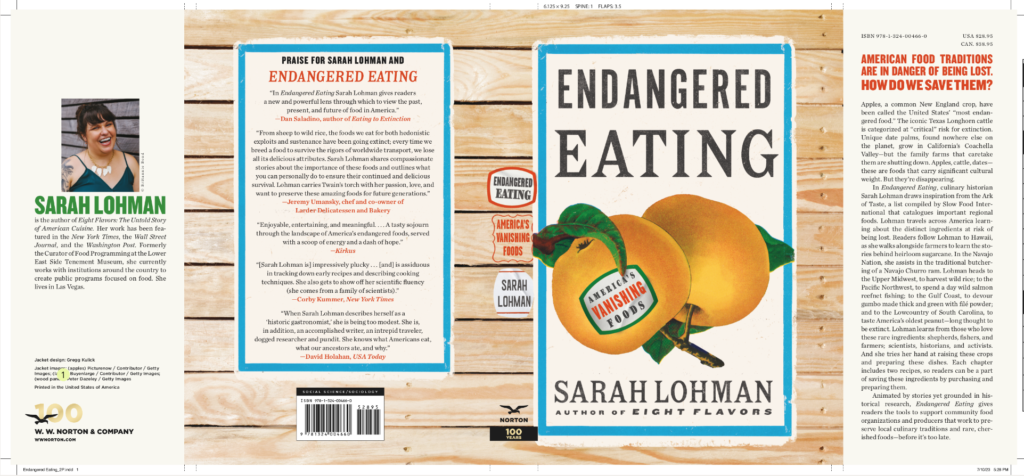 BOOK TOUR!
Politics and Prose, Washington D.C.
Sun Oct 15, 3pm
MOFAD, NY, NY
Thursday, Oct 19
Endangered Eating Book Release Spectacular!
Caveat, New York, NY
Tues., Oct 24, 7pm
Early bird tickets $10 – registration & more info here!
The Connecticut Museum of Culture & History, Hartford CT
Thurs., Oct 26, 6pm
The Long Island Museum, Stony Brook, NY
Sat., Nov. 12, 2pm
Franklin Township Public Library, Somerset, NJ
Tues., Nov 14, 6pm
Holiday Stroll Meet & Greet
Loganberry Books, Cleveland, OH
Sat., Nov. 25, 11am
Loganberry Books, Cleveland, OH
Thurs., Nov. 30, 7pm
Literary Cleveland, Cleveland, OH
Workshop: Turning Research into Narrative
Sat., Dec 2, 10am-2pm
Every writer needs to research, whether you're building the world of a historical novel, writing your first nonfiction essay, or simply want to place your characters in a different city. In this workshop, food historian and author Sarah Lohman will show you how to be a responsible researcher and how to turn that knowledge into a compelling narrative.
Details & Tickets here!
Bookends & Beginnings, Chicago, IL
Weds., Dec. 6, 6pm
The Writer's Block, Las Vegas, NV
Thurs., Dec. 7, 7pm
Book Larder, Seattle, WA
Weds., Jan. 16, 6:30pm, 2024
Omnivore Books, San Francisco, CA
Sat., Jan 20, 3pm, 2024